THE 

LEADER
IN TOOL AND STAMPING
Short Lead Time, All Quantities Welcome, All in House
Established 1951
ISO 9001:2015 Certified
THE 

LEADER
IN TOOL AND STAMPING
Short Lead Time, All Quantities Welcome, All in House
Established 1951
ISO 9001:2015 Certified
Hot & Cold Rolled Steel
Stainless Steel
Aluminum
Galvanized
Copper
Brass
Bronze
And many more
Thickness capacity ranging from 0.004 to 0.625
Point-of-Purchase
Construction
Electronics
Transportation
Medical
Food Service
Fitness Equipment
US Postal service
Vibratory Deburring
Tapping
Drilling
Welding
Assembly
Plating
Painting
Powder Coating
Heat Treating
Other Value-added Services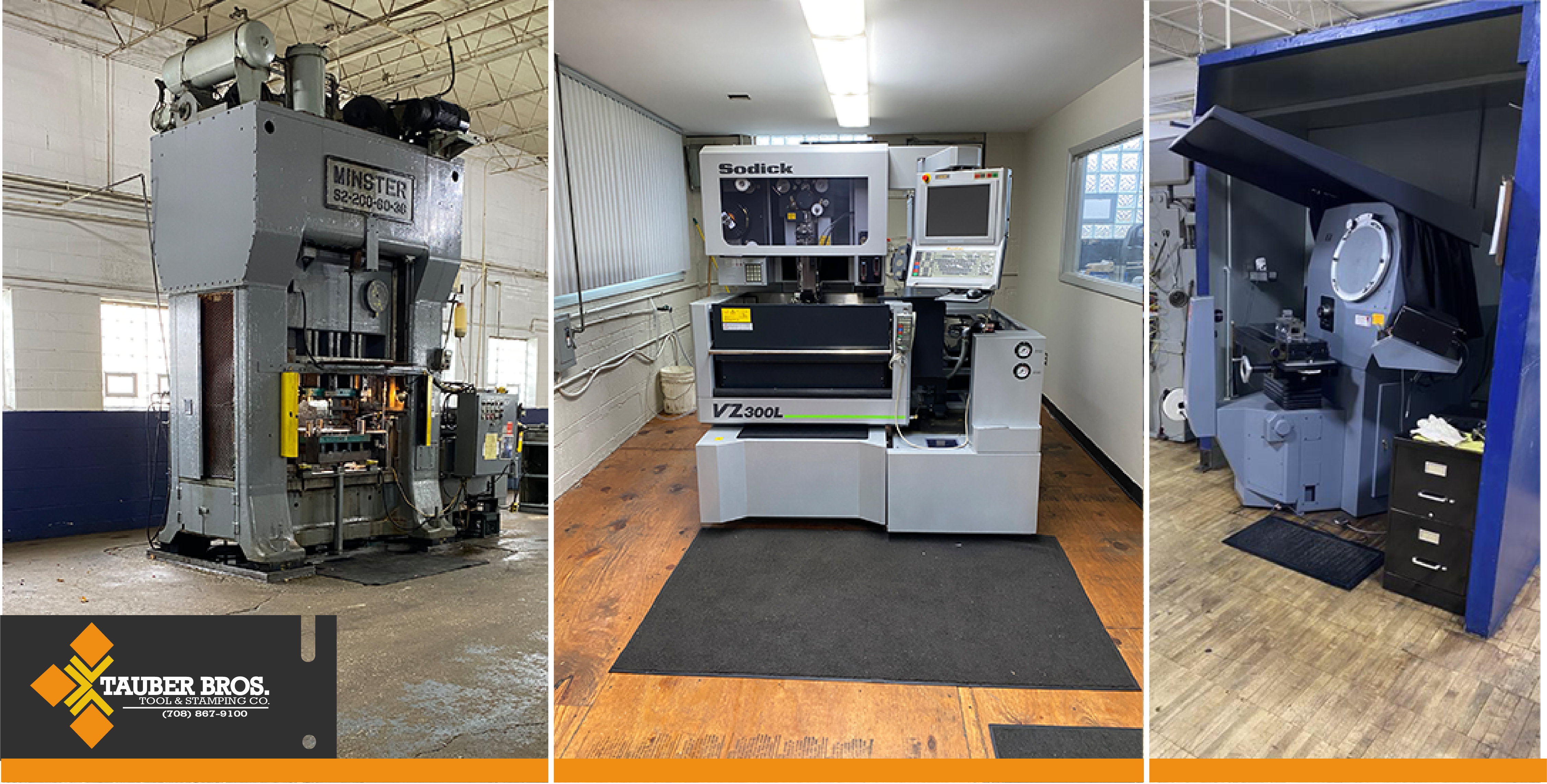 With presses ranging from 5 to 400 tons we can stamp material with thickness from 0.004" to 0.625" this allows us to produce parts of all sizes. Our presses are capable of stamping coils, blanks, or extrusions. We can stamp anything from simple flat parts to parts with multiple bends and deep draws. 
     Our commitment to quality begins with our tooling department. Experienced, skilled craftsman specialize in progressive, compound, and secondary dies. As well as die maintenance and repair, a full tool room allows for reduced cost, and minimal down time. 
     With 70 years of experience, Tauber Brothers Tool & Metal Stamping Company has never wavered from our commitment to quality. Parts are visually, mechanically, and electronically inspected for dimensional accuracy. All necessary inspection equipment is in-house and calibrated to national standards on a regular basis. ISO 9001:2015 means that we hold up to International standards on our tooling and stamping.   
     Quality does not stop with our parts. Our business practices start with having a clear understanding of the order and ensuring our delivered products and services meet the customer requirements prior to shipment. Having a hands-on owner with few levels of management allows Tauber Brothers Tool and Metal Stamping to adapt to your companies ever changing needs. 
     We are a job shop that is interested in working closely with our customers to provide the highest quality customer experience we can. With the correct understanding of the customer and the ability to act on their wishes we strive to produce the highest quality parts available.  
-Located 15 minutes from O'Hare for air shipments
–We are in the northwest suburbs of Chicago. Manufacturing in the Midwest gives us a central location for shipping throughout the country. 
-30,000 Sq. Ft. Facility 
-All quantities welcome, packaging and labeling services, free local delivery with punch presses ranging from 5 to 400 tons and an extensive compliment of related services,
-Tauber Tool & Metal Stamping is ready to meet all of your metal stamping needs.
The parts in this gallery represent a small portion of the hundreds of various parts we produce. Although most of our parts are customer specific, we do have some parts that are readily available.